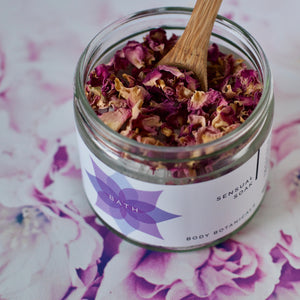 The Body Botanicals Sensual Soak brings a touch of luxury into your life, as well as a chance for you to let go of the stresses from the everyday routine. Containing over 82 trace minerals, this hand-blended jar of goodness works to detoxify, relax and invigorate the body. With a combination of magnesium flakes, sea salts and the exotic scent of rose geranium, you'll be feeling like a goddess as you soak in the most indulgent bath. You will notice the tension melt away from your muscles, so sit back and relax with a glass of red and your favourite magazine – you're in for a treat!
 Give yourself or a loved one, this gift of wellbeing.
 Add three tablespoons to your bath and relax.
Avoid during pregnancy. 
Ingredients: Sodium Chloride, Magnesium Chloride (Magnesium Flakes), Maris Sal (Dead sea salts), organic rose petals and Pelagonium graveolens (Rose Geranium) essential oil.
Vegan | Cruelty free | Hypoallergenic | All natural | Organic | Made in Australia 
1 kilogram